About ACUS Australia
 
 Our company is run by the Engineer Nigel T. Warin; Engineer (Mechanical) and the ACUS Design Engineer. He graduated with the highest honours and is highly recognized in Australia for his extensive experience in the field of design and manufacture of steel tanks.
 
Water is very valuable and scarce, and its catchment being very onerous. It is necessary to store water in safe, strong, durable and healthy water tanks. The tanks ACUS enjoy these features because their technical and research staff work hard, year after year, in improving the water tank design to meet the needs of our most demanding customers in Australia and the world. 
 
The water tanks are professionally designed and built by very experienced engineers, and the tanks evaluated by an external engineering consultant with high international prestige.So, you the customer can have tanks up to 6 million litres of capacity, designed specifically to meet your requirements, at a much more competitive price of the Market.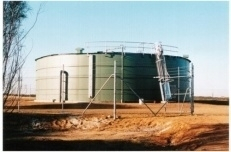 ACUS water tanks have a highly flexible design that allows us to respond satisfactorily to the industries of mining, agriculture, drinking water, fishing, food factories, health, housing and construction, among others.
 
ACUS water tanks also manufacture fire protection tanks and tanks for domestic use. Our liners and membranes and water tank liners are manufactured to store hot water, oil, drinking water, raw water, fuel, chemicals, among other liquids.
 
ACUS produce the tanks in Australia to serve Australian and Overseas markets. Tanks and water tanks and liners and liner products, are transported on pallets for safe and agile up loading, down loading, and transport on Ute, truck, railroad, or plane, depending on the size of the tank.
 
ACUS provide quality control to ensure pallets iare rigorously checked by our staff to ensure that a tank and liner will be delivered complete and without any missing part. Once the pallets arrive at the destination, they are open to start the assembly of the tanks by our Supervisor and local staff.
 
Sales and Distribution Abroad:
 
We have a Sales Department with highly qualified staff to advise our clients in deciding which water tank or tank or tanks best suites their needs and demands. In addition we have a group of distributors throughout Australia and around the world, such as: Peru, Chile, Ecuador, Asia, Africa, among other countries; being our after-sales service of the highly prized virtues of our company.

Benefits of the ACUS Tanks
 
The benefits of ACUS tanks and liners provide to our customers are:
ACUS is highly specialized in the design, manufacture, and installation of prefabricated steel tanks in galvanized steel and zincalume steel, and powder coated steel, for markets in Australia and overseas, with more than 14 years of experience in the industry.
 
The prices are very competitive and lower than the competition, without reducing the quality of the tanks.
 
They can have up to a height of 15 metres and capacity from 500 litres to 6 million litres.
 
The tanks have an anode anti-corrosion systems.
 
The ACUS TANK system of anodes, and the liner prevents water or liquid from having contact with the metal walls, which are steel Galvabond and / or Zincalume. ACUS can provide a layer of Colourbond on the outside of the tank.
 
The tank base is made from a concrete ring beam. The concrete also prevents the metal walls have contact with soil and moisture.
 
ACUS can vent the roof structure to help keep the trusses dry.
 
ACUS use the best materials and the most advanced technology for a long life of the tank.
 
ACUS can make the tank standard or according to customers' specifications or the countries specification.
 
The liner is very strong and can store drinking water in a very healthy and safe way. Potable water liners are manufactured to the relevant Australian codes.
 
ACUS also have liners and membranes specially designed for storing chemicals, petroleum derivatives, hot water, and waste from factories, among others.
 
The tanks can designed to withstand seismic loads, wind loads, and can be designed to be hurricane and cyclone proof. Our tanks have survives Hurricane Ivan as people shelters
 
The tanks are assembled in a short time. A tank of 200m3 capacity can be assembled in three to four days.
 
Not many staff is required for the assembly of the water tanks or tanks or steel tanks or liner tanks.
 
We use the materials of steel galvabond and zincalume different thicknesses to fulfil the design requirements of the liquid being stored, the location, and climate in which tanks are assembled.
 
We offer an excellent after sales service to keep the tanks to customer satisfaction. Maintenance procedures must be adhered to.
 
Tanks can be coloured to customer requirements. ACUS prefer to powder coat that stell prior to site.
 
Once installed, the tanks have a harmonious appearance and can be easily camoflagued for blending in with the environment.
 
ACUS tanks can be easily transported in a Ute or truck depending on the size of the tank. The tanks are packed in pallets sizes which allow easy handling for transportation and cartage.