ACUS SQUARE TANKS
Apartment buildings, commercial buildings, Car parks Surge tanks for stormwater.
TANKS LOCATION: APARTMENT BUILDINGS, Commercial buildings.

We At Acus build & design wide range square water tanks which are best fitted to your needs.

OUR SQUARE TANKS KEY BENEFITS
Patented (exclusive product)

No Leaks

Warranty

Strong

Safe

Aesthetically Pleasing

Experience / proven

Easy install

ACUS are the designer of this square water tank, and holders of the exclusive PATENTS and rights to build it. Our square water tanks are made from Aqua plate steel with an internal polymer coating. 

ACUS put pipes to 250mm outside the tank with flange or roll groove.
Plumbers then run their pipes from the pumps to their services or the feed lines to the tanks.  Plumbers do not enter the tank.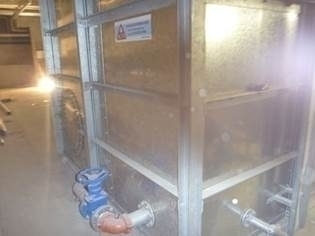 Storm water tank. 600mm inlet
FIRE PUMP AND TANK ASSEMBLY:
FIRE PUMPS, TANKS, DESIGN, ELECTRICAL, AND PIPING ALL DESIGNED AND MANUFACTURED and INSTALLED BY ACUS AND KELAIR.