Domestic Tank Parts Included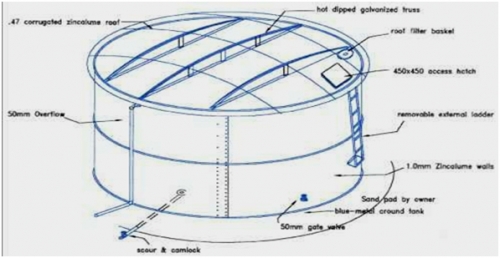 ACUS Tank is the perfect answer for your long term water storage needs.
Every ACUS Tank includes:
Custom designed heavy duty 1.2 mm zincalum panels (minimum thickness). AQUAS liner. Quality commercial-grade food-grade liner (to AS 2070)
Sacrificial anodes.
Internal safety ladder. (Safety feature for children's use only).
Inlet Roof leaf Strainer Basket.
Heavy-Duty Lockable Hatch 500 x 500 approximate sizes.
Galvanized external ladder (used to access the inside of the tank as well).
Brass or Poly 50mm outlet & valve

(Poly if hard or corrosive water).

Overflow pipe (brass and PVC).
Hot dip galvanized roof trusses 

( self supporting)

A completely covered corrugated zincalum roof 0.42mm BMT. Dome roof.
The ACUS & Liner conditional warranty (The customer is responsible to complete the appropriate forms and return the ACUS forms within 30 days to validate warranty.)
Note: For a warranty on the liner Biddum Geofabric must be used between the liner and sand. (Optional Extra).

Optional Extras:

 

Cone Roof
Below ground cleaning outlet scour with 50mm brass or poly valve fitting
Galvanized Walls
Insect VERMIN PROOFING & whirly bird.
Water level gauges (Levitator).
 Cam lock Emergency Fire Fighting Adaptor
Pumps
Sand pad installation
Inlet piping and dirt collector supply and installation
Inlet filter (20 micron) to remove and filter dust and sand from roof.
Biddum Geofabric.
Shire Permits and permit design information.
Bolt Covers
OPTIONAL EXTRA (chargeable)
Water Storage tank INLET FILTER
20 micro metre filtering:
START WITH A CLEAN WATER TANK
AND KEEP IT CLEAN.
Filter the water entering the domestic water tank and not after the pump.
Keep your water tank liners clean and your long term water storage tank clean.

Optional Extra: replaces the standard plastic inlet leaf strainer basket on
Your water storage tank.
Stops back pressure on your pump. Better pressure at the tap or shower.
Keeps the water tank clean.

This inlet filter provides final filtering of the water as it enters the water tank. Any particles that pass through the primary mosquito proof leaf strainer are retained in the filter bag.
Stops dust and sand entering the water tank.


Features of the water storage tank filter:
-Easy to install
-Made from easy to clean, food grade Polyester fabric and UV stabilised Polypropylene
-Removable mosquito proof leaf strainer strains most debris prior to the inlet filter (included).
-Improves water quality and filters particles down to 20 micron.
Reduces sunlight entering the water tank.
Reduces potential bacteria and algae growth.
Cost effective.
Part Number                      Description                      
IF300M    300mm standard Mosquito proof inlet filter
IF400M   400mm standard Mosquito proof inlet filter
IF500M    500mm standard Mosquito proof inlet filter

ACUS WATER STORAGE TANKS, water storage containers, fire tanks, fire water tanks, water storage tank Australia, liquid storage tanks, fibreglass storage tank water, manufacturer storage tank water, water tank truck, water holding tank, membranes, tank liners, water tank liners.